JAKARTA, Oct 9, 2023 – (ACN Newswire via SeaPRwire.com) – PT PLN (Persero) received two awards from The Asian Business Review at the Asian Experience Awards 2023. The awards, for Ux and Dx in the Energy category, were presented by Simon Hyett, Contributing Editor, The Asian Business Review, to Darmawan Prasodjo, the President Director of PLN, at the Asian Experience Awards in Singapore on Thursday, October 5th.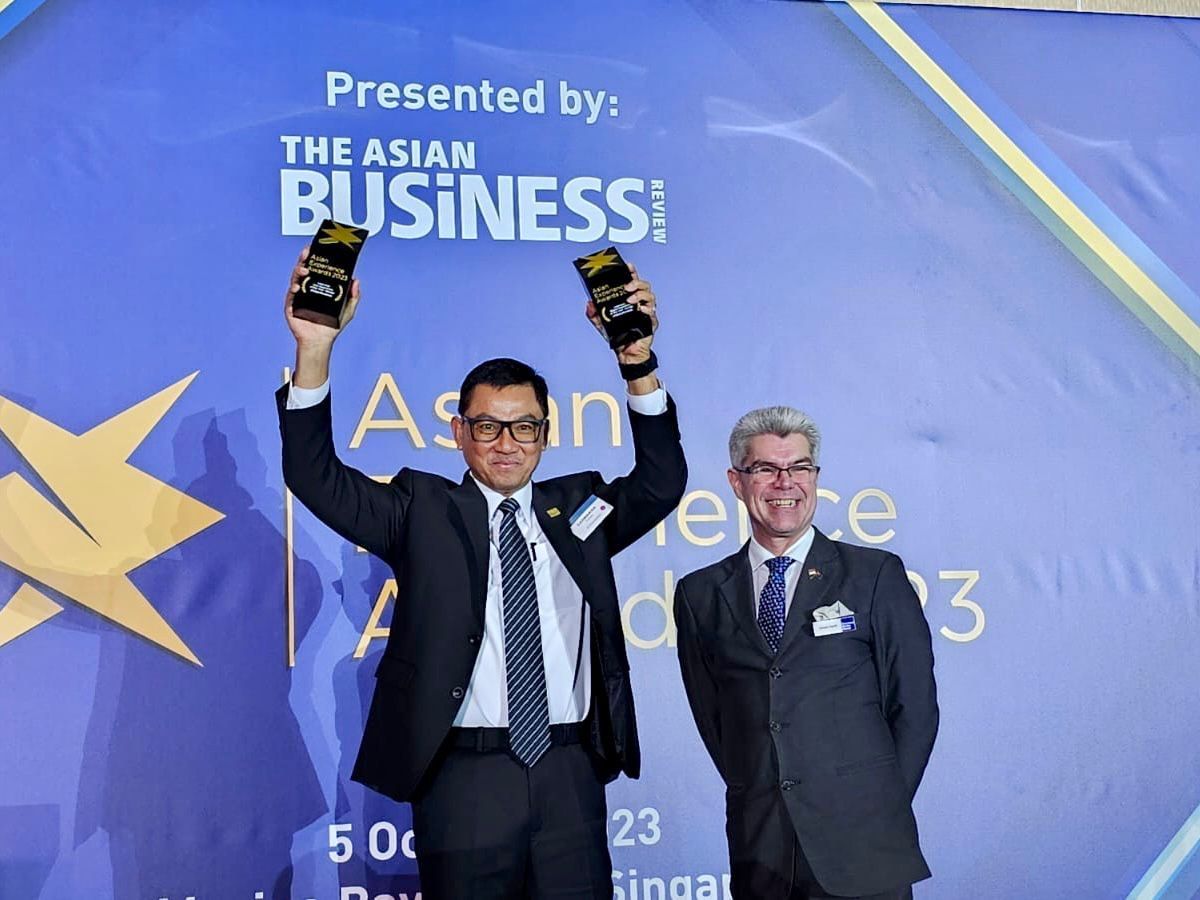 PLN received two awards in the energy category: Indonesia User Experience of the Year for the PLN Mobile application and Indonesia Digital Experience of the Year for the company's digital transformation. This achievement is the outcome of PLN's transformation and innovation, which has enabled it to give excellent service to consumers.
According to the Asian Business Review, PLN, an Indonesian state-owned enterprise, demonstrates the most advanced innovation in the energy sector, especially electricity. The coveted prize was granted to PLN as a worldwide acknowledgement of its achievements among 16 countries and 60 well-known Asian companies. PLN is the only company in the energy sector to get an award at this event.
Darmawan Prasodjo, President Director of PLN, said this achievement is concrete proof of PLN's innovation and transformation, which continues to be oriented towards customer focus. "PLN has continued to carry out digital-based transformation from primary energy, power generation, transmission, distribution, financial systems, procurement systems, and customer service during the last three years. This digital transformation has proven to boost company efficiency," Darmawan said.
Darmawan further stated that the digitalization carried out by PLN and its subsidiaries simplifies, accelerates, and integrates the whole business process. It can also be monitored and controlled in real-time. "PLN continues to progress and develop in line with the changing times. Therefore, the digital-based transformation that we carry out should be massively done, changing the service system that was previously slow and unresponsive to be fast and very satisfying," Darmawan explained.
One of the results of this transformation is the existence of the new PLN Mobile application. PLN's success in changing and managing its mobile application has received recognition at the international level "The new PLN Mobile is able to answer customer needs as a one-stop solution application. Some of the services offered by the new PLN Mobile application range from new power installation requests, electric bill payments, token purchases, better complaint handling, and EV digital services to the marketplace. As a result, nearly 44 million users have downloaded PLN Mobile, and the rating has reached 4.9 out of 5," he added.
Darmawan stated that PLN will continue to drive the spirit to improve the quality of PLN in serving customers. "This achievement adds to our awards, acquired both domestically and internationally. I dedicate this achievement to all parts of the PLN team who continuously provide the best service for the community," stated Darmawan.
Apart from companies in the energy sector, at this event, awards were also given to companies engaged in other fields, such as Oil & Gas, won by Petronas Malaysia; Telecommunications, won by China Mobile International Singapore; and banking by Khrungthai Bank PCL from Thailand.
About PLN
PT PLN (Persero) is a state-owned electricity company that continues to be committed and innovative in carrying out a mission to illuminate and move the nation. With a vision to become the leading electricity company in Southeast Asia, PLN is moving towards becoming the number one choice for energy solutions. PLN is committed to transformation with aspirations of being Green, Lean, Innovative, and Customer-focused to provide electricity for a better life. PLN can be contacted through the PLN Mobile application available on the PlayStore or AppStore. https://portal.pln.co.id
Contact
Gregorius Adi Trianto
Corporate Communications & CSR,
Executive Vice President, PT PLN
Tel. +82-21 7261122
https://portal.pln.co.id
Copyright 2023 ACN Newswire via SeaPRwire.com.