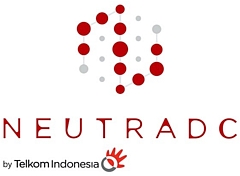 JAKARTA, Mar 29, 2023 – (ACN Newswire via SEAPRWire.com) – NeutraDC, a brand of PT Telkom Data Ekosistem (TDE), a subsidiary of Telkom Indonesia, has entered into a Memorandum of Understanding (MOU) with China Mobile International (CMI), a subsidiary of China Mobile, one of the largest telecommunications companies in the world.
According to the terms of the MOU, NeutraDC and CMI will work together to develop strategic solutions that meet the specific needs of Chinese companies in the Indonesian market. They will do this by utilizing their combined expertise and data center and network capabilities. Both companies will also explore opportunities for data center development and expansion in the region.
"This partnership is an important step in Indonesia's digital economy," said Andreuw Th.A.F, CEO of NeutraDC. "We have extensive experience supporting Chinese businesses in this region and understand the challenges they face. Through this Memorandum of Understanding, we will provide Chinese companies with a comprehensive solution to enter the Southeast Asian market, along with knowledge and support to help them navigate the complexities of doing business in the region."
"It is very exciting to have this opportunity to collaborate with NeutraDC to provide our customers with even more comprehensive and innovative solutions to expand their business to Southeast Asia," said Daniel Zhang, Managing Director of CMI Indonesia.
NeutraDC offers a pathway for customers to access Indonesia's large and lucrative digital economy. A TDE brand, NeutraDC offers a hub of TDE's data centre resources in Indonesia, a digital ecosystem where any party (including hyperscale players) can tap integrated digital infrastructure with comprehensive network connectivity. With over 171 million active internet users, Indonesia presents a huge potential market under the strong economic ties between China and Indonesia.
Over the past decade, Chinese companies have embraced Indonesia's digital economy by investing in the start-ups and innovative companies emerging in areas such as e-commerce, OTT, fintech, and digital entertainment.
Pictured*, left to right:
i. Terry LEUNG, Deputy Head of Enterprise Business, CMI
ii. Lei REN, Division Head of Planning & Development, CMI
iii. Andrew NIU, Chief Partnership Officer, Carrier Business, CMI
iv. Weizhong SHEN, Director & Executive Vice President, CMI
v. Daniel ZHANG, Managing Director of CMI Indonesia
vi. Andreuw Th.A.F, Chief Executive Officer, Telkom Data Ekosistem (NeutraDC)
vii. Bogi Witjaksono, Director of Wholesale & International Service, Telkom Indonesia
viii. Michael Hu, Chief Commercial Officer, Telkom Data Ekosistem (NeutraDC)
ix. Daniel Syafril, AVP Corporate Secretary, Directorate Wholesale & International Service, Telkom Indonesia
NOTES TO EDITORS
1. Indonesia is the largest economy in Southeast Asia, and its digital economy has been growing rapidly, with a compound annual growth rate (CAGR) of 25% between 2015 and 2019, according to a research report by Google, Temasek, and Bain & Company. This growth has been driven by factors such as a large and young population, rising middle class, increasing smartphone penetration, and government support for the digital economy.
2. Chinese e-commerce giant Alibaba has invested in Indonesian e-commerce platform Tokopedia, while Tencent has invested in ride-hailing company Gojek and digital payments platform OVO. Other Chinese companies, such as Huawei and ZTE, have also been investing in Indonesia's telecommunications infrastructure.
3. The Chinese government actively promotes cooperation with Indonesia in the digital economy, through initiatives such as the China-Indonesia Industrial Park. These initiatives aim to enhance connectivity and facilitate trade and investment between China and Indonesia, including in the digital economy sector.
4. The partnership can provide Chinese enterprises with end-to-end solutions, from infrastructure to applications, and from connectivity to cloud services, to enable them to set up and expand their businesses in the Southeast Asian region.
5. Additionally, the partnership can provide Chinese enterprises with local knowledge, support, and expertise to navigate the complexities of doing business in Southeast Asia, including language barriers, cultural differences, and regulatory environments.
About NeutraDC
NeutraDC, a brand of PT Telkom Data Ekosistem (TDE), a Telkom Indonesia (IDX: TKLM) subsidiary, offers direct access to network infrastructure, cloud providers, and large-scale storage space, with scalable solutions that empower businesses to pivot quickly and stay agile in response to changing markets and customer needs. With NeutraDC, businesses can grow their workloads in the cloud, while ensuring that their most sensitive data and applications remain on private servers. NeutraDC's resources include 28 data centres consisting of 5 global data centres and 3 Enterprise Data Centers (Sentul, Serpong, and Surabaya) with Tier 3 and 4 classifications, 2 Hyperscale Data Centers (Cikarang and Batam) that has global standards certified by Uptime Tier III & Tier IV for global players, along with 19 neuCentrIX located in various cities in Indonesia. We offer a reliable gateway and direct access to one of Southeast Asia's largest and fastest-growing digital economies, helping businesses to tap into Indonesia's 171 million digital users and enterprises. Visit https://neutradc.com for more information.
About China Mobile International
China Mobile International Limited (CMI) is a wholly-owned subsidiary of China Mobile (HKG: 941). In order to provide better services to meet the growing demand in the international telecommunications market, China Mobile established CMI in December 2010, headquartered in Hong Kong, China. CMI has expanded its footprint in 36 countries and regions. Leveraging the strong support by China Mobile, CMI is a trusted partner that provides comprehensive international information services and solutions to international enterprises, carriers and mobile users. For more information, please visit https://www.cmi.chinamobile.com/en/.
* To download a high-resolution image, please visit: https://bit.ly/3nvvXon
MEDIA CONTACTS
Singapore: Illka Gobius, WhatsApp +65 9769 8370, email illka@pinpointpr.sg
Jakarta: Windy Oktaviani, WhatsApp +62 811-9109-266, email windy@pinpointpr.sg
Copyright 2023 ACN Newswire. All rights reserved. (via SEAPRWire)