Hanover, Germany, Apr 20, 2023 – (ACN Newswire via SEAPRWire.com) – Inaugural opening ceremonies for Hannover Messe 2023 took place on Monday night (16/4) local time in Hannover. Indonesia was once again given the golden opportunity to take on the role of an official partner country during this year's event. Previously, during the Covid-19 epidemic, Indonesia had become a partner country in Hannover Messe 2021: Digital Edition. The opening ceremony of the largest industrial exhibition event was held on Sunday, April 16, 2023, at 18:00 local time.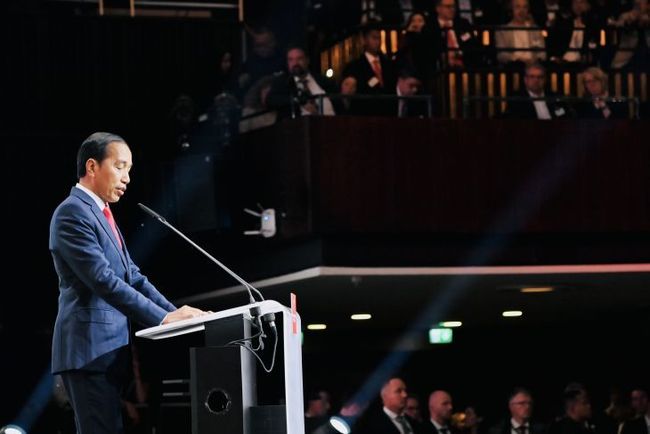 Indonesian President Joko Widodo delivering his remarks at the opening of the Hannover Messe 2023 in
Hannover, Germany, on Sunday evening (April 16, 2023) local time. (ANTARA/HO Biro Setpres)
Joko Widodo, the President of the Republic of Indonesia, and Olaf Scholz, the Chancellor of Germany, were present for the opening ceremony of Hannover Messe 2023, which was held at the Hannover Congress Centrum in Hannover. The inauguration by the two leaders of both countries marked the start of the annual exhibition, which has been running for more than 74 years.
At Hannover Messe 2023, Indonesia presented the theme "Making Indonesia 4.0." The President stated that the theme is extremely relevant for Indonesia, which is undergoing economic transformation through innovation and technology. "Indonesia is currently implementing two big strategies, namely downstream industry and green economy," said President Joko Widodo.
Moreover, the abundance of natural resources, the enormous demographic and market benefits, and a robust economy are factors that support the downstream industry policy. Therefore, Indonesia aims to lead the electric vehicle (EV) market with these encouraging factors. "Indonesia is very open to foreign investment and collaborative efforts to develop Indonesia's downstream industries. Moreover, 21 commodities are predicted to achieve an investment value of USD 545.3 billion by 2040, according to the downstream industry roadmap," the President added.
Indonesia has a strong commitment to preserving environmental sustainability in the green economy. Furthermore, in 2023, it is targeted that up to 23% of energy will come from new and renewable sources (EBT), and all coal-burning plants will be shut down by 2025. Indonesia must, however, ensure that the energy transition can provide the population with a reasonable price. "Of course, this effort will require financial support; it will cost at least USD 1 trillion until 2060. Therefore, to develop a green economy, Indonesia invites German investors. Again, Indonesia is very open to partnerships and investments," said the President.
As stated by the President of the Republic of Indonesia, the Chancellor of Germany said that Indonesia will soon become a member of the "cooperative climate club" due to its goal of completely decarbonizing the electrical sector by 2025. "Additionally, Germany will encourage investments totaling EUR 10 billion in Indonesia from the G7 countries. I invite all of you, German companies, to take this opportunity to ensure that this goal's spirit is appreciated," said Chancellor Olaf Scholz.
Following the event, Bettina Stark-Watzinger, the Federal Minister of Education and Research, presented the Hermes Award winner during the series of opening ceremony events, which were organized by Deutsche Messe AG (DMAG). All companies registered as exhibitors at the Hannover Messe 2023 events are eligible to participate in the Hermes prize event, which is the worldwide technological prize presented by Hannover Messe. The winner of the Hermes Award at the Hannover Messe 2023 is Bosch Rexroth, which is considered to meet the requirements for technological innovation, industrial benefit, environment, and society.
The Hannover Fairground will host the Hannover Messe 2023 during the next five days, ending on April 21, 2023. In this event, Indonesia collaborated with 157 co-exhibitors from industrial firms, including industrial startups, associations, industrial estates, Special Economic Zones, and educational institutions, as well as the National Capital of the Archipelago (IKN).
Partner Country 2023 – Indonesia
As Partner Country to Hannover Messe 2023, Indonesia presents more than 150 exhibiting organizations that range from large industrial companies, small and medium-sized enterprises and startups to industrial estates, industrial associations and government ministries and institutions. Indonesia invites you to discover its potential – join the Partner Country's infinite journey at Hannover Messe. Visit https://indonesiahannovermesse.id.
The Ministry of Industry (Kemenperin)
Public Relations Bureau, Jakarta
E: humaskemenperin@gmail.com
Copyright 2023 ACN Newswire. All rights reserved. (via SEAPRWire)