Central Java, Indonesia, May 17, 2023 – (ACN Newswire via SEAPRWire.com) – Ganjar Pranowo, the Governor of Indonesia's Central Java Province, launched the export of small to medium-sized enterprise (MSME) products from Central Java to countries in Asia, America and the Middle East. 4 containers of MSME product were released in Purwokerto, Central Java Province, while 3 containers were dispatched from Purbalingga and Pati. The 7 containers of export products included essential oils, organic coconut sugar, processed foods, brooms, organic palm sugar, and handicrafts.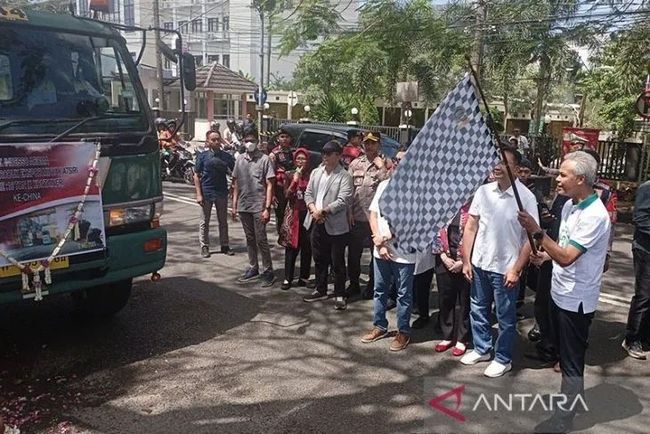 Central Java Governor Ganjar Pranowo released seven containers of local MSME product for export to Asia, the Middle East and America. [Image: Antara]
Ratna Kawuri, Head of Central Java's One-Stop Integrated Investment and Licensing Service (DPMPTSP), said the 4 containers dispatched from Purwokerto consisted of a 20-foot container of essential oils produced by PT Indesso Aroma (Banyumas) destined for China, a 40-foot container of organic coconut sugar produced by CV Inagro Jinawi (Banyumas) bound for the United States, a 40-foot container of rebel coconut sugar produced by CV Permata Satria (Banyumas) also destined for the US, and a 40-foot container of processed food such as vermicelli produced by PT Lestari Jaya Bangsa (Banyumas) bound for Saudi Arabia.
The MSME products dispatched from their respective companies included a 20-foot container of brooms produced by CV Rayung Pelangi (Purbalingga) destined for South Korea, a 20-foot container of organic ant sugar produced by CV Bunga Palm (Purbalingga) bound for the United States, and a 20-foot container of Syams Indonesian Handicraft products (Pati) destined for Japan. The total export value reached IDR 7.25 billion, contributing to the positive trade balance in the first quarter of 2023, impacting the export-import balance surplus of around USD 708 million, Ratna said.
Following the export release, Governor Ganjar Pranowo stated that the support provided by the local government and MSME activists had yielded results. He acknowledged that some producers, like the essential oil manufacturer, had already gained experience and were exporting their products to many countries. Ganjar emphasized the importance of maintaining product quality and reminded the MSMEs, particularly those producing organic coconut sugar, to uphold the organic farming practices to preserve the quality.
"I believe that if this trend continues consistently, the orders for exports will continue to flow. Thus, the government will continue to support MSMEs to increase their exports," he stated. Ganjar Pranowo considers the increase in exports from Central Java, particularly from MSMEs, to be positive news. He believes that this signifies the upward progress of MSMEs and their potential to compete in the global market.
Released by the Central Java Provincial Government. Copyright (c) ANTARA 2023
Copyright 2023 ACN Newswire. All rights reserved. (via SEAPRWire)